Discussions Around DEI Remain Top of Mind for the ICR Region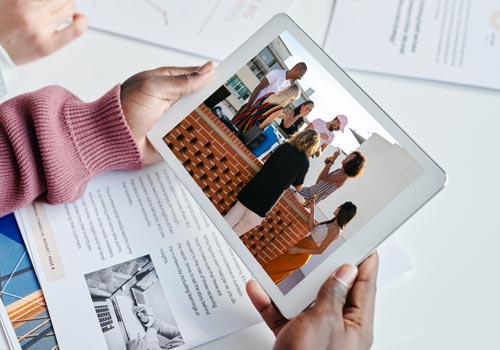 When diversity, equity and inclusion (DEI) are ingrained in a society's core, it's a win for everyone. An equitable business community not only makes the local economy stronger, but a diverse workforce fuels belonging, openness, and innovation. The Iowa City/Cedar Rapids (ICR) region is committed to intentional inclusivity. Local leaders from the ICR region shared their experiences of DEI efforts in the workplace during the Iowa Ideas 2022 virtual conference. Doug Neumann, executive director of the Economic Alliance, moderated the DEI discussion that addressed how organizations can build strong DEI foundations.
Panelists included:
Robin Therme President, CIVCO Medical Solutions
Tim Carty Co-Founder and Chief Strategy Officer, RoleCall
Jennifer Banta VP of Advocacy and Community Development, Iowa City Area Business Partnership
Erin Pottebaum Director of Operations, Iowa City Area Development (ICAD) Group
Angelica Vannatta Senior Manager of Community Outreach and Engagement, United Way of East Central Iowa
Stephanie Munsterman Executive Director, Cedar Rapids Civil Rights Commission
While these leaders are from an array of different companies, one theme rang true through the hour long discussion – DEI is more important than ever to intertwine into organization-wide efforts internally and externally.

Tim Carty, co-founder and chief strategy officer at RoleCall, shared how his organization is always trying to "hold up their end of the bargain" when it comes to DEI. It's something they value and work to weave into efforts across their organization. "For us, it's about accountability. As middle-class, white business owners, we want people to hold us accountable," added Carty. "We are taking steps to make a more equitable workplace for our business and region." Several of those efforts include recognizing additional holidays, proactively providing resources to staff and utilizing diverse suppliers and businesses for organizational needs.
Erin Pottebaum, director of operations at ICAD Group, chimed in sharing that "understanding how they as an organization can be transparent with DEI initiatives is important for workforce retention. Making sure that the DEI assessment is easily accessible to employees and making approachable work environments for all is a high priority." Pottebaum emphasized the importance of creating an environment where all employees feel like they belong and have access to necessary resources.
Another theme that took shape was how efforts for DEI inclusion need to be led from the top down. Robin Therme, president of CIVCO Medical Solutions, shared, "Empowering people within the organization that have the passion to lead the charge is one piece of the puzzle, but first, leadership must have that passion to spark it. It needs to be a continuous topic of conversation within the organization."
The Importance of the top leader setting the tone for DEI initiatives was an agreement from all panelists. "If they don't believe in it, why would anyone else? With a company that does nearly half of their business outside the United States, our team needs to understand other cultures, and appreciate the differences so they can do the best work they can," says Therme. Stephanie Munsterman, executive director of Cedar Rapids Civil Rights Commission, commented, "The highest performing companies have prioritized, integrated and made DEI a part of their core focus. It needs to be imbedded into their processes. It is vital that it comes from the top down as it is fundamental to success."
With resources like the DEI index, diversity and inclusion online courses, and panels like this one held during Iowa Ideas, its clear that the ICR region is taking big strides forward in DEI efforts across the board. It is a regional collaboration, and will take the efforts of everyone to ensure that it remains top of mind with consistency. Find more resources on how your business can become more DEI centric: https://icriowa.org/inclusive-icr/dei-resources/