ICR Talent Brochure Wins International Award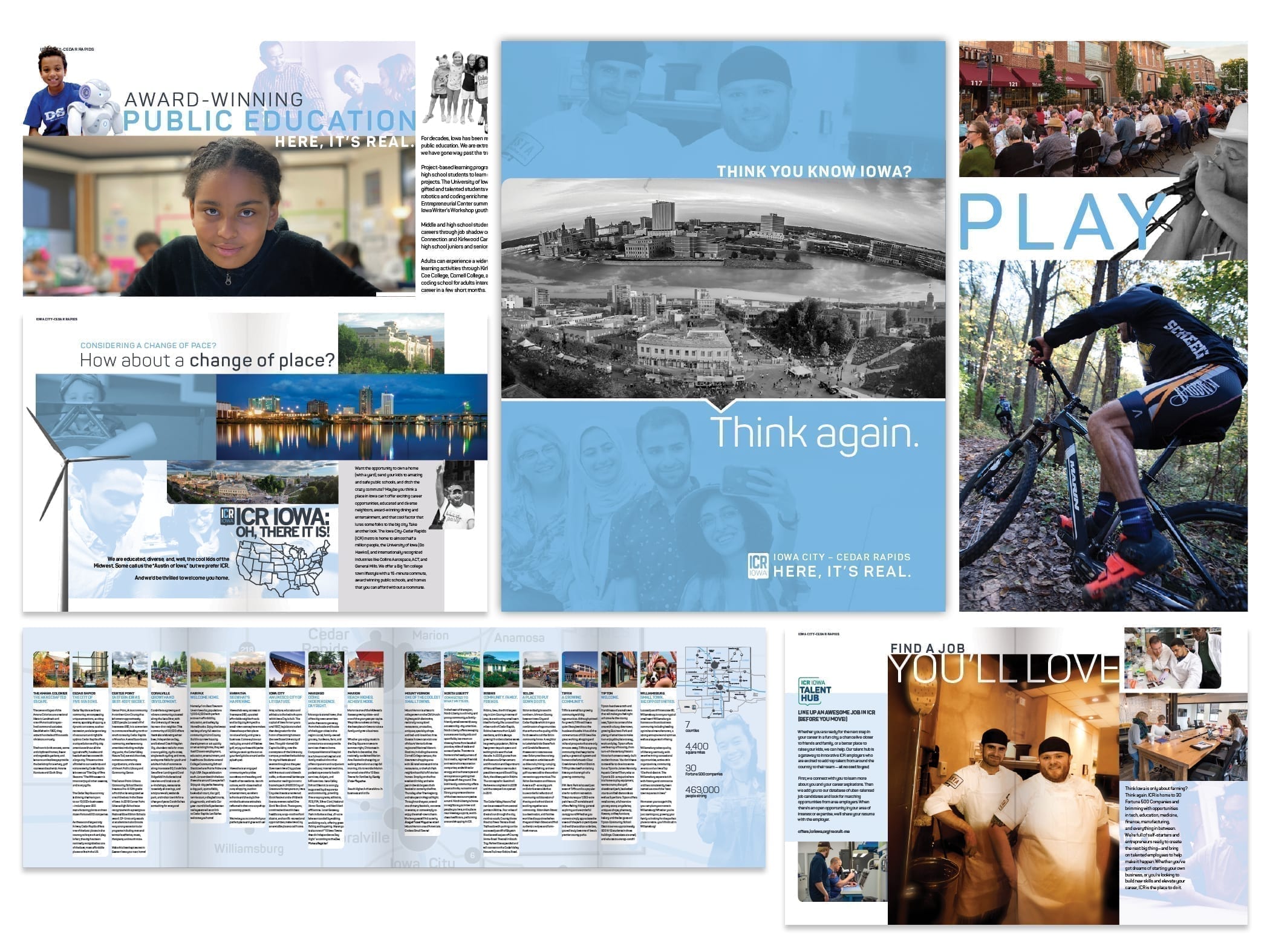 ICR Iowa recently announced that their ICR Talent Attraction Brochure won an Award of Excellence – the highest award given – in the 2020 Communicator Awards. The brochure was designed by Robyn Hepker, Designer for Benson & Hepker Design in Iowa City.
The brochure was developed by ICR Iowa as a part of a Recruiter Toolkit, a collection of print and digital materials and banners ICR employers can use when they are recruiting candidates to the region. With some funding support from the Hall Perrine Foundation and the resources provided by the Cedar Rapids Metro Economic Alliance and the Iowa City Area Development Group, the brochure was designed and printed in the fall of 2019.
"We wanted a printed piece that really reflected the new ICR Iowa regional brand," said Jennifer Daly, President and CEO of ICR Iowa. "We knew it needed to stand out and help us reshape some of the traditional perceptions of Iowa that can discourage candidates from considering a new opportunity here."
Robyn Hepker with Benson & Hepker was a part of the original team of 17 that created the ICR Iowa brand. Her firm also partnered with de Novo Marketing and Nate Kaeding on the development of the brand logo and website and has been one of the lead designers for ICR Iowa materials. She was a natural fit for the development of the Talent Attraction brochure.
Hepker was inspired by the project from the very beginning, "I've lived in Iowa City or Cedar Rapids for most of my life, and when I saw the photos from the various ICR sources, I was blown away. I had no idea of the vitality that exists in pretty much every nook and cranny of this place. I knew that this talent attraction piece needed to communicate that in as energetic and engaging a way as possible."
When the brochure was completed, the team knew it was special. Hepker decided to submit the design for the 2020 Communicator Awards. The Communicator Awards is the leading international creative awards program honoring creative excellence for communication professionals. Founded over two decades ago, the annual competition honors the best in advertising, corporate communications, public relations and identity work for print, video, interactive and audio. The 25th Annual Communicator Awards received over 6,000 entries from ad agencies, interactive agencies, production firms, in-house creative professionals, graphic designers, design firms, and public relations firms.
When Hepker was notified that the brochure had won an Award of Excellence in the 2020 Communicator Awards, she was thrilled, "It's always nice to get recognized by one's peers. I think I feel most proud, though, for the ICR Iowa staff. They do all this work and never stop communicating about ICR, and it's wonderful that someone who probably has never heard of ICR Iowa took a look at this and said, "This is good!" Great design always starts with great content, so I think it's as much a reflection of the ICR Iowa story as the way in which I told it."