Rantizo Drones Making Crop Dusting More Efficient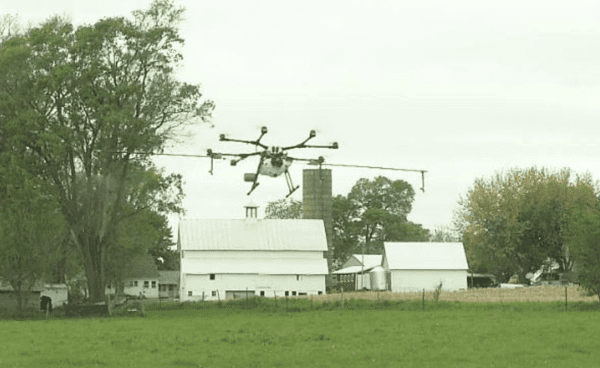 The following article was originally published by the Corridor Business Journal on Tuesday, May 21, 2019.
Iowa City-based company Rantizo is making waves in the farming community with their new drone systems aimed at making crop dusting more efficient, news partner CBS2/FOX 28 reports.
"One of the overarching issues is the population is growing but there are fewer people working in agriculture," Michael Ott, CEO for Rantizo, said. "We need to be more precise and use technology and automation that's exactly what we are doing, understanding what the core problems are, which is labor and availability of chemicals and delivering right where they need to be."
Rantizo's drone system, while in its infancy, has already proven it can be more efficient and cost-effective than classic crop dusting airplanes or ground machinery. Drones can spray 13 acres an hour or 100 acres in a day. They run an automated spray program that figures out where crop dusting is needed. Through its programmed pathway, it becomes more efficient, distributing chemicals where they need to go.
Mr. Ott also hopes the drones can have a positive impact on the environment, reducing chemical run off, overspray and drift in a given spot. Right now the company is working to optimize the system for corn and has already tested it for application on vineyards and cannabis fields. Because the system is completely automated, the farmer doesn't need to do any extra work and multiple drones can be operated at the same time.
"It's entirely programmed beforehand so the drone will fly exactly where it needs to be," he said. "When it runs out of chemical or is low on battery, it will zip back to home, will be refilled and go back to the spot so farmers can spend their time doing more valuable things."
The cost of a unit is roughly $20,000 – a fraction of the cost of a ground rig, according to Mr. Ott. He also said the cost per acre is competitive with aerial application right now. With more technology improvements, the company estimates to be able to eliminate the need for crop dusting airplanes and ground rigs. Read the full story here.