GEICO holds ribbon-cutting ceremony at new Iowa City office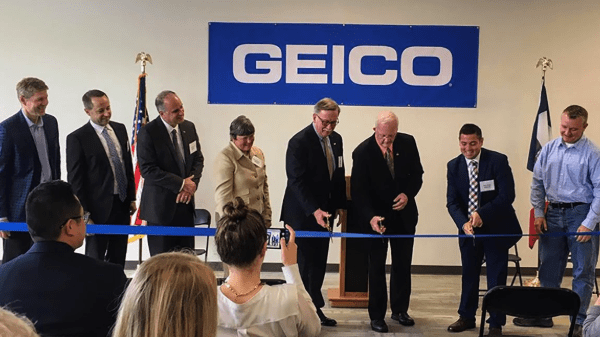 The article below was originally published by GEICO on October 8, 2018.
GEICO, the second largest private passenger auto insurer in the U.S., celebrated its new Iowa City office with local officials at a ribbon-cutting event.
GEICO President and CEO Bill Roberts and GEICO Iowa City General Manager Peter Rizzo welcomed guests including North Liberty Mayor Terry Donahue, city and county officials, and members of the Corridor business, academic, and civic communities. They also talked about the company's overall growth and hiring plans.
"Moving into this new building is a big step for us, both now and for the future," Roberts said. "When GEICO first came to Iowa in 1997, we had about 2.8 million policyholders. Today, we have more than 16.5 million and we're growing—and our team here is an important part of that growth."
GEICO's new 50,000-square-foot office, located at 2320 Landon Rd. in North Liberty, is part of the Villas at Liberty Executive Park. The two-story building's brick, glass, and painted metal design puts an emphasis on windows and an abundance of natural light. It is situated on more than five acres of land and easily accessible to I-380.
The combination of GEICO's products, financial stability and service capabilities has created ongoing growth for the company for the past several years. GEICO is a member of the Berkshire-Hathaway family of companies, which is ranked as the top global insurance group in the world.