ICR Regional Visioning Team Releases First Annual Scorecard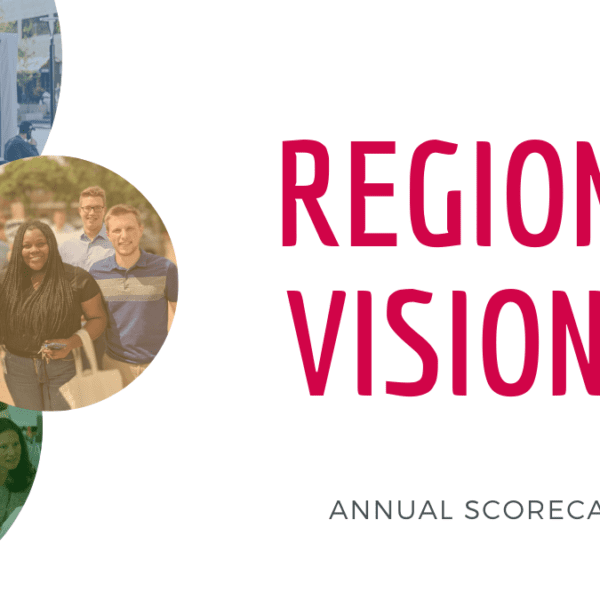 Today, the Regional Visioning organizing team released its first Annual Scorecard; a comprehensive regional development strategy report for Benton, Cedar, Iowa, Johnson, Jones, Linn, and Washington counties. The scorecard uses three strategic categories — workforce, business, and community — to benchmark our region's progress in comparison to seven peer cities.
"The Regional Visioning process has allowed us to look at the key indicators and compare where we are now and where we want to be in the future. We're looking forward to working collectively to build on our strengths and focus efforts on areas of improvement," said Leslie Wright, the past leader of the Regional Visioning organizing team and Sr. Vice President of Community Building at United Way of East Central Iowa.
The Regional Visioning Scorecard was created in collaboration with the East Central Iowa Council of Governments (ECICOG) and a task force of key stakeholders including the Cedar Rapids Metro Economic Alliance, the Greater Cedar Rapids Community Foundation, the Iowa City Area Development Group, ICR Iowa, Kirkwood Community College, the University of Iowa, and United Way. With a diverse set of perspectives regarding community planning, the task force identified strategic categories for the scorecard, a list of peer and aspirational cities, as well as goals for the Regional Vision. 
"This benchmarking process has allowed us to view our region as a whole; showcasing the work that is already being done and identifying where there is room for improvement. We're confident that with this information, and the strong network that we have in our region, we can continue our efforts in becoming one of the strongest and most recognizable regions in the country and achieve our 2040 goal of achieving sustainable and equitable prosperity in Iowa," said Kim Becicka, member of the Regional Visioning organizing team and Vice President of Continuing Education and Training Services at Kirkwood Community College. 
The scorecard is available for review on the ICR Regional Vision website.