Keepin' Up with the Jones's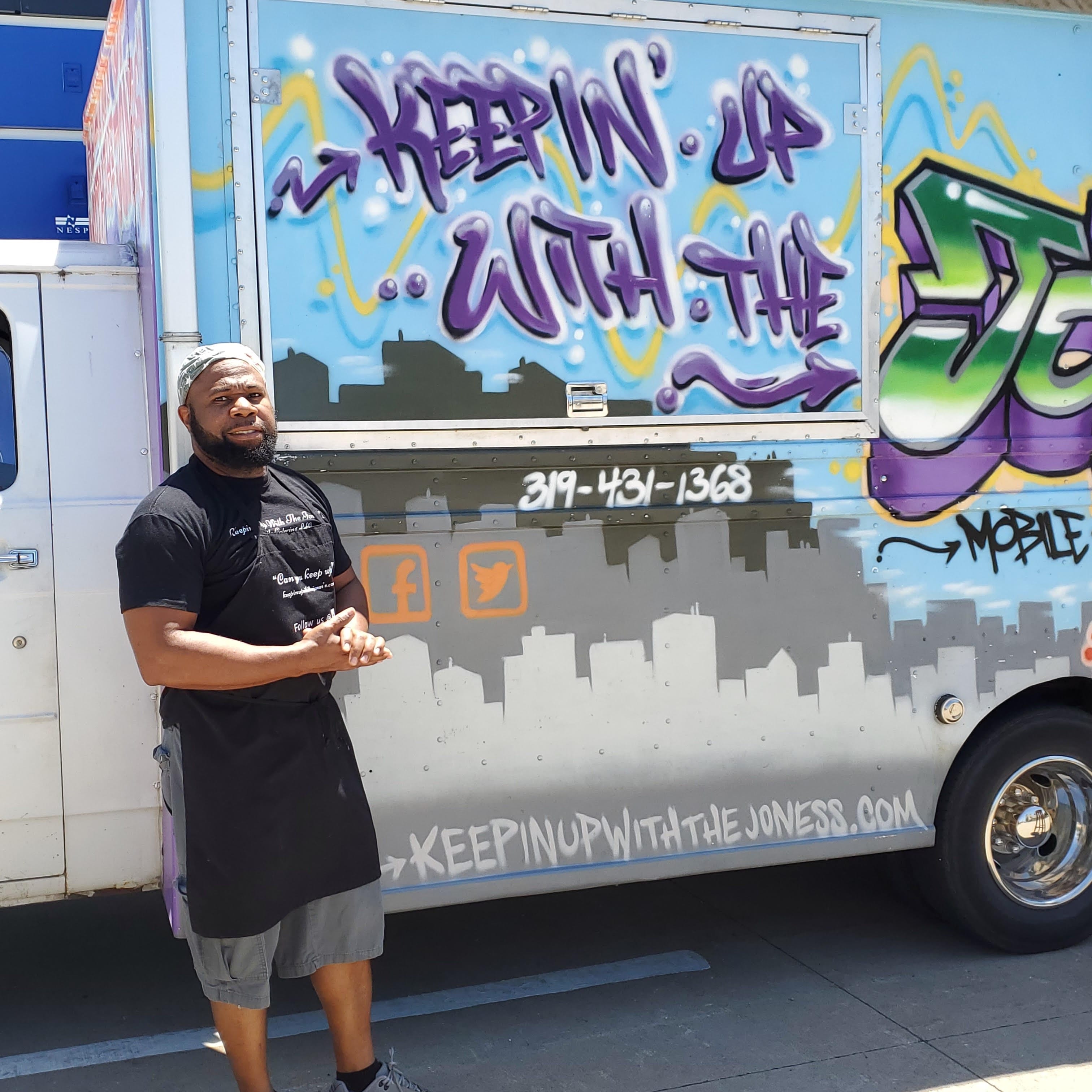 In 2012, Charles Jones realized there was something missing from Cedar Rapids. Something he had seen in his hometown of St. Louis and in so many other places. A food truck. Charles decided to fill that gap with the opening of Keepin' Up With The Jones's, Cedar Rapids' very first food truck.
Charles moved to Cedar Rapids in 1997 to follow his mom and sister. He never imagined he would stay long term. He found the community to be family friendly…a big city and small community, all together. By 2012, he was excited to add his own business to the special place he now considered home.
With new beginnings also come new challenges. While a mobile food truck has lower startup and operating costs than a traditional bricks and mortar restaurant, a food truck was also a new concept for the City of Cedar Rapids. Charles had to convince the local restaurants and city that it would not negatively impact the restaurants already in operation.
It took some time, but Charles was ultimately given permission to open his own food truck. He also helped to create the new policies, procedures, and regulations for food trucks for the City of Cedar Rapids.
Today, you can often see Keepin' Up With The Jones's driving down the street, at local farmer's markets, and at the Newbo market. Their signature dishes include a barbeque sundae and strawberry lemonade.
Although Covid-19 has had an impact on his business, Charles has been able to take his food truck to neighborhoods to offer a safer environment for food take-out. These neighborhood settings have allowed Charles to keep his business going during the pandemic while also creating fun experiences and memories for local citizens.
So much work has gone into the design of Charles's food truck, from the menu to the exterior colors and signage. Charles had a local student from Washington High School spray paint his truck, creating a unique and community-driven design. The same teen is currently working on a new mural for the truck, so Charles' customers may soon experience a whole new look and feel to the truck they already love.
Beyond his own unique business, Charles has made a significant impact on the food scene in the City of Cedar Rapids. As the first food truck in the city, Charles fought for and helped to establish the regulations that have allowed other food trucks to flourish. Today, nine food trucks call Cedar Rapids home. His dream opened the door that made it easier for others to begin their own food truck journey.
Keepin Up with the Jones's is one of the many resources shared in the ICR Iowa African American/Black Resource Guide, an online publication of the Inclusive ICR Coalition.