Local Manufacturers Offer Hands-On Program for Middle School Students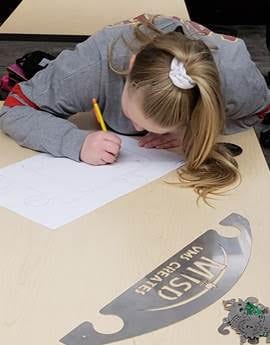 February 26, 2019 – Iowa City-Cedar Rapids, Iowa – The ICR Iowa Advanced Manufacturing Sector Board recently launched a new, creative approach to increasing awareness about careers in the manufacturing industry. Through a partnership with Vernon Middle School, the Kirkwood Auto Cad class, and New Leader Manufacturing, the sector board has been able to give students the unique opportunity to experience manufacturing from the generation of an idea through final product creation in the hopes that several will consider manufacturing for their future career.
"The Advanced Manufacturing Sector Board's mission is to work together as an industry to create an awareness of the careers within the industry and increase the pipeline of potential future workforce," said Brian Bedard, HR Director for New Leader Manufacturing. "Partnering with area middle schools we hope to actively engage students in aspects of manufacturing that will encourage them to explore the variety of outstanding career opportunities available to them as they prepare themselves to eventually enter the workforce."
The program began with Vernon Middle School students learning about manufacturing companies and careers available in Iowa City-Cedar Rapids (ICR) through presentations by business representatives of the sector board. They also used the sector board's online portal, www.explore-manufacturing.org, to explore manufacturing careers.
"As educators at the middle school level, we strive to open the eyes of our students to a wide range of career pursuits," said Emma Ambrose, Vernon Middle School Guidance Counselor. "Meeting local professionals in the field of manufacturing allows students to picture themselves in a new role. We are thrilled to be partnered with the Advanced Manufacturing Sector Board for this unique opportunity for our students to learn, grow and create."
Next, students created a design on paper based on Vernon Middle School character pillars. They transferred their design into Google Draw and sent it to the Kirkwood AutoCAD class. The AutoCAD class and middle school students met virtually to discuss the designs and transfer them into AutoCAD. The designs were then placed into Solid Works and transferred to New Leader Manufacturing to be cut out of metal. Vernon middle school and Kirkwood students will meet in person on February 28th to tour New Leader Manufacturing and see their designs being created.
"The beauty of this project is how it incorporates a wide range of engagement from a variety of sources," said Bedard. "It all starts with the creativity of Vernon Middle School students and their understanding of what parameters their designs must meet.  With the help of Kirkwood students, using AutoCAD, the initial designs are converted into a file format that serves as the basis for programming New Leader Manufacturing's fiber optic laser.  Through this collaborative effort, Vernon Middle School student will create a stainless steel plaque to be proudly displayed within the school."
Efforts such as this are being implemented in high-demand industries through partnerships among business, schools and work-based learning intermediaries. If your school would like to implement a similar program or your employer would like to connect with this initiative, please contact Barb Rawson with the ICR Iowa Advanced Manufacturing Sector Board at Barbara.Rawson@kirkwood.edu.
#####
The Advanced Manufacturing Sector Board is one of six boards in the Iowa City-Cedar Rapids (ICR) Region where industry and educational leaders work together to promote the area's most in-demand industries. Their mission is to work together to create an awareness of the careers within the industry and increase the future workforce pipeline. They are a part of the ICR Future Career-Connected Learning Coalition. For more information about the sector boards, go towww.icriowa.org/companies/workforce.