SOUND UNWAVERING DIRECTION: EMBRACING THE ONE TRUENORTH MINDSET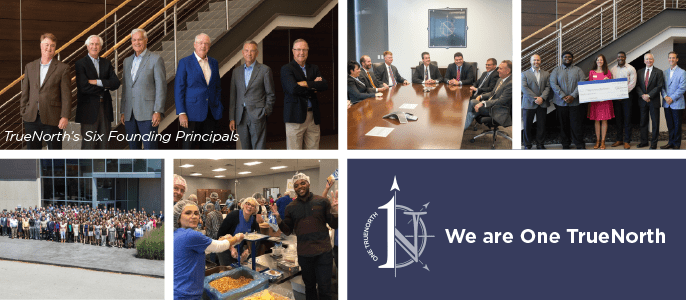 When our firm's six founding principals of Davis Jones Lamb, Insurance Service Corporation and Verhille & Associates came together to decide on a new name, Larry Bergdale, TrueNorth's first chairman, suggested "TrueNorth" after reading Steven Covey's "The Seven Habits of Highly-Effective People." The founders had just left a meeting with a marketing firm they had selected to assist with naming the newly merged company when Bergdale explained Covey's concept behind "TrueNorth" as the guide and direction we all strive to have in our lives.
With some thought and introspection, the six collectively realized that they were combining their businesses with the intention of forging lasting and meaningful relationships with their clients, colleagues and the community at large. That is when they decided to embrace Covey's respected and timeless principles of character and adopt them as the firm's namesake and moral compass.
Over the years, TrueNorth has evolved with the understanding that in order to provide an exceptional experience and preserve our award-winning culture, we must adopt a unified approach and a common focus. Every day, we wake up motivated to make progress on these initiatives, celebrate key milestones and enjoy the company of our colleagues. This shared commitment, energy and effort promises an enduring legacy and an exciting future for our firm.
One TrueNorth: A Commitment to our Clients
As the insurance industry evolves and technology advances, our firm's business strategy remains the same: TrueNorth is committed to helping our clients feel secure and supported in their aspirations for the future.
One TrueNorth: A Vision for our Colleagues
As an employer, we aspire to provide vision and instill confidence in TrueNorth colleagues to grow and succeed. When you work at TrueNorth, you are a part of something greater. We encourage a culture that empowers our colleagues to live out their purpose and carry the movement forward.
One TrueNorth: A Pledge to our Communities
The three firms that originally founded TrueNorth had many things in common; one of the most important threads was how rooted each were in the community. Today, many TrueNorth employees serve their communities by electing to participate in philanthropic committees, sit on nonprofit boards and actively volunteer their time and talent.
Today, Insurance Journal ranks TrueNorth among the top 50 agencies in the country (#34). With ten offices in six states, TrueNorth provides integrated risk management and insurance services to clients throughout the country. Our firm's entrepreneurial team consists of specialists in risk management/property casualty, employee benefits, retirement plans, strategic continuation planning, consulting and education. We also offer individual solutions in personal home, auto, liability, financial planning and health insurance.
Protecting and maximizing is more than TrueNorth's mission – it is a constant evolution and a practice we are actively living. By investing in our people and locations, and creating consistencies in our operations, we are improving our capabilities and are thrilled to share that value with you.