UnityPoint Health – Cedar Rapids opens medtech innovation hub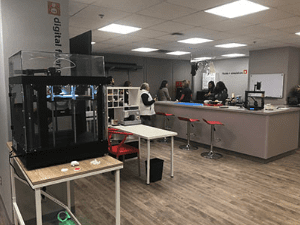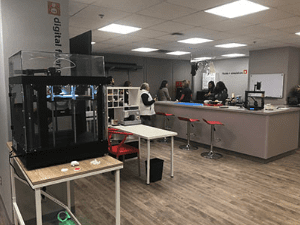 The following article was originally published in the Corridor Business Journal's Business Daily on November 22, 2019.
UnityPoint Health – Cedar Rapids on Thursday cut the ribbon on generate @ St. Luke's, a new open-access medical technology and learning lab designed to encourage innovation at hospital bedsides and within its clinics.
UnityPoint Health – Cedar Rapids partnered with Boston-based MakerHealth for the construction and ideation of the new lab. MakerHealth, a spinoff of the Massachusetts Institute of Technology's Little Devices Lab, is a pioneer in hospital makerspaces, and its principals have over a decade of experience bringing the tools of innovation to the point of care so that clinicians and patients can create health care devices.
The Cedar Rapids facility is the first hands-on fabrication lab of its kind in the Midwest and the third of its kind in the United States.
Generate @ UnityPoint Health – Cedar Rapids will provide a designated space in the hospital where hospital and clinic nurses, physicians, team members, patients and community partners can transform their ideas for improving patient care into tangible prototypes to be tested and reviewed for implementation.
UnityPoint Health – Cedar Rapids previously worked with MakerHealth and the MakerNurse community for nearly two years, hosting seven pop-up lab events in the hospital and community that resulted in 57 projects made by clinicians, with 11 of those already in use at St. Luke's and its clinics. These projects include a sensor system, designed and made by St. Luke's Wound Clinic nurse Christina Ross, which was connected to a wound vac device to alert nurses via text message when the system pressure is low. Others included a 3-D printed case for medication vials to prevent needle sticks in the operating room, and a silicone frame for a virtual reality mask.
"I learned about the MakerNurse community about 18 months ago when I was working on my doctoral project," said Rose Hedges, St. Luke's nursing research and local MakerNurse champion, in a release. "The program taps into the ingenuity of nurses. For decades nurses have used everyday materials to improve upon and create new tools and devices, which allow us to provide better care for patients. It's an international program that supports this work."
Generate @ St. Luke's includes several rooms within the space for collaborative meetings, a workshop area, digital fabrication equipment such as 3-D printers and a laser cutter, and medical-grade fabrication materials for designing and prototyping. UnityPoint Health – Cedar Rapids employees will have access to technology training resources on topics such as 3-D printing patient data, creating connected connected health devices, and fabrication of simulation models and smart systems.
In addition to generate @ St. Luke's Hospital, there will be two St. Luke's MakerHealth satellite labs with medical fabrication resources at Witwer Children's Therapy locations in Cedar Rapids and Hiawatha. They join a growing network of MakerHealth hospitals including Beth Israel Deaconess Medical Center (BIDMC) in Boston, University of Texas Medical Branch in Galveston, Texas, and Hospital Negrin in Las Palmas Gran Canaria, Spain.
IMAGE: A look inside the new generate @ St. Luke's space inside UnityPoint Health – St. Luke's Hospital in Cedar Rapids. CREDIT UNITYPOINT